Posts Tagged 'recoup settlement'
No surprise here…Bishop Eddie Long is seeking to get some of his original settlement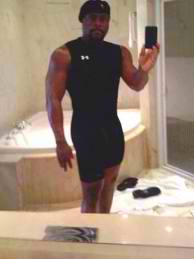 money back due to 3 of the men speaking publicly to the media.  Besides, we all know Eddie needs the money.
____________
Attorneys representing Eddie Long's church have informed three of the five young men who accused the pastor of sexual coercion that they intend to recover nearly $1 million from their financial settlement, the Atlanta Journal-Constitution has learned.
The letter, sent this week by the Atlanta law firm Drew Eckl & Farnham, alleges that Jamal Parris, Spencer LeGrande and Centino Kemp violated terms of a confidentiality agreement outlined in the settlement with Long and New Birth Missionary Baptist Church.  The firm is seeking at least $900,000 already paid the three accusers, according to people involved in the settlement but not authorized to speak publicly. That figure is a portion of the total settlement with the three men.
Financial terms of that settlement have not been disclosed but, based on the letter and the fact each of the young men were paid equitably, the total comes to at least $1.5 million.
The letter outlines the plaintiffs' "demand for arbitration" though no legal documents have yet been filed.
The letter could simply be a threat, said Atlanta litigator Hayden Pace.
"No one's going to turn over the money just simply because you've asked for it," Pace said. "You're going to have to earn it back by establishing your right to it in the courts."
Parris and LeGrande, who broke their silence in an interview with the AJC last month, said at the time they were aware of the risk.
"I'm going to tell the world – money does not buy happiness," LeGrande said in August. "When you sleep at night, the problems are still there. The money stuff, who cares about the number."
"I feel like burning [the money]," he said.
Pace said the state's courts take violations of confidentiality agreements seriously.
__________
FULL STORY HERE.
The Mo'Kelly Report is an entertainment journal with a political slant; published at The Huffington Post and EURWEB.com. For the most recent posts of Mr. Mo'Kelly, visit http://mrmokelly.com.  Mr. Mo'Kelly can be reached at mrmokelly@gmail.com.
Free Subscription to The Mo'Kelly Report HERE
Follow The Mo'Kelly Report on Facebook  HERE
Twitter – @mrmokelly