(Click on news source for complete story.)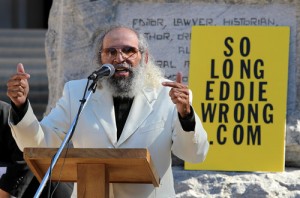 Most accounts of the turnout ranging from "tens"…to "dozens" to about "75″…depending on the story.  It's going to take far more than that to generate any heat under Long in order to force his resignation.  You'll probably need a couple thousand at the minimum.
Just sayin'.
Reuben Armstrong, the outspoken radio talk show host from Dallas, TX and author of "Snakes in the Pulpit," organized the rally to demand the resignation of Bishop Eddie Long, who has been accused in a lawsuit of sexually coercing young men from his church.

Long, the leader of New Birth Misisonary Baptist Church, has denied the allegations.

"I would equate Bishop Long to Jim Jones," Armstrong said to a modest crowd. "I won't be surprised if the followers did not drink the Kool-Aid this morning."

One after another, six speakers took the podium with the same message.

"I'm here today to demand that Bishop Eddie Long step down from the pulpit," said Peter Laberbera, president of Americans for Truth About Homosexuality.

From his podium, Armstrong told the crowd some of the allegations in the lawsuit filed against Long.

"The boy went to his room and Bishop Long licked his lips to sleep," he said.
Minister Adisa Franklin, National Association for Religious Accountability founder, asked why there were no other Atlanta pastors at the rally. "There's got to be someone to take accountability," he said.

Will Haymon, a Stone Mountain insurance agent, attended New Birth for five years. He left the church in January, but  said it had nothing to do with the recent scandal. "It was time for us to move on," said Haymon. "My wife felt like we were not growing."

Haymon stopped by the rally to hear what speakers had to say. He has been listening to all sides but has not made up his mind about Long's innocence or guilt. He is willing to let the matter work its way through the courts. "I think there really should be concrete evidence," Haymon said.

Kianna Sams, who watched the rally, previously visited New Birth several times and was there when Long first addressed the congregation after the allegations. She wants Long to step down because "this is hurting New Birth's image now."
"It's a shame that the church is becoming a corporate entity with the pastor acting as CEO, but the people are the shareholders," Armstrong said.

Among those in attendance were members of a South Carolina Tea Party group.

"We believe that Christians need to stand up for wrong," said Michael Brady of the Boiling Springs Tea Party. He said the allegations are a "crime against the community, and a crime against humanity, and Christians have to stand up against that."
The Mo'Kelly Report is an entertainment journal with a political slant; published at The Huffington Post and www.eurweb.com. It is meant to inform, infuse and incite meaningful discourse…as well as entertain. For more Mo'Kelly, http://mrmokelly.com. Mr. Mo'Kelly can be reached at mrmokelly@gmail.com.