Mo'Kelly isn't saying he did, but let the record reflect he was the ONLY voice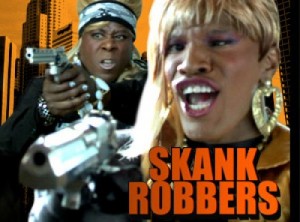 in the media discussing the issue and serving as the opposition.  Remember, The Mo'Kelly Report took this on FIRST.  The Mo'Kelly Report respectfully called out Halle Berry as to her involvement.
If this movie ever does come to pass, The Mo'Kelly Report will be right here, blog locked and loaded.  If it doesn't…know that The Mo'Kelly Report was the FIRST and ONLY media voice willing to take this head on.
Check this out from shadowandact.com
I'm sure you and all your friends have been waiting with anxious breath for the comedy smash of the year, The Skank Robbers – the film that will chronicle the hilarious hijinks of ShenenehJenkins (played by Martin Lawrence) and Wanda Wayne (played by Jamie Foxx).

The film reportedly even stars EVERYONE'S favorite, Halle Berry, in a co-starring role (though that was more of a rumor than anything else), and it was announced that an August 19th release date was set.

One problem… is the film actually being made? So far, there's no indication that shooting has even begun. According to IMDB.com, the film is still listed as in "pre-production" with no director or other crew members listed. Could it be that saner heads have prevailed?

Or, as I suspected, was the whole project nothing more than another one of those Hollywood "trial balloons" that are announced in the show business trades all the time.  In other words, Foxx and Lawrence got it in their heads that this would be a good idea for a movie, and purposely leaked it to the media as a sure thing, to see what the public reaction would be.

If the reaction was positive, then they would go ahead; but if it was met with derision and yawns, they would drop the project and quietly sneak away into the night. So far, the evidence is the public doesn't want to see the film (though of course there are always people willing to see any kind of crap), and the recent lackluster box office response of Big Mommas perhaps finally killed off the project for good.

If anyone has any knowledge about the project's status, let us know; but if it never sees the light of day, will anyone be crying? I seriously doubt that.
This is getting to be a recurring theme, and Mo'Kelly likes it.  It's time to stop making excuses for subpar cinematic themes.
From TheGrio
Anthony Mackie, one of the stars of the new film The Adjustment Bureau, which opens in theaters next Friday, March 4, didn't hold back in a recent interview with theGrio.
Mackie, who can be seen on the cover of Vanity Fair's annual 'Hollywood' issue, said all of the barriers in Hollywood for African-Americans have been broken.
"I think right now [blacks] are being kinda lazy on our game," Mackie said. "There are enough brothers with distribution deals and production deals where we should be making our own movies."
Mackie, who starred as Tupac Shakur in 2009′s Notorious, said there is no shortage of black directors, writers or stars.
"Oprah got her own network," Mackie said. "Michael Jordan own a franchise. We got black money. So there's no reason why we shouldn't be able to tell the stories that we want to tell and portray ourselves the way we want to be portrayed."