Posts Tagged 'Tea Party racism'
December 18th, 2011
But don't think the Tea Party has a racist element…(wink, wink).  Don't hold your breath expecting Tea Party leadership to "denounce" such rhetoric.  It's not what they do.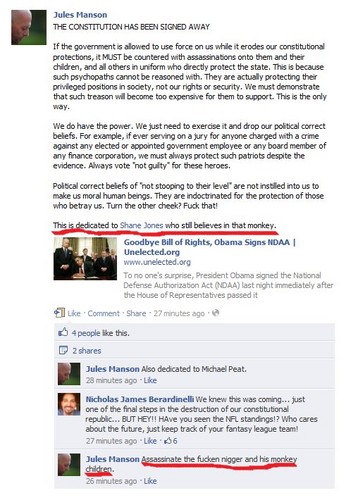 Nothing left to say about the Tea Party.  Have a nice day.  Let us put to rest the debate as to whether the Tea Party fosters or encourages an attitude of racism within its ranks.

You can take a look at Manson's unlocked Facebook wall (and comment to him) HERE.
The Mo'Kelly Report is a syndicated politics and entertainment journal. Visit http://mrmokelly.com for the latest from Mr. Mo'Kelly. Contact him at mrmokelly@gmail.com.
Follow The Mo'Kelly Report
Posted in
Uncategorized
|
Tags:
assassination
,
Barack Obama
,
Jules Manson
,
racism
,
Tea Party
,
Tea Party racism
,
Tea Party racists
|
17 Comments »
Mo'Kelly's Moments in Media
Mo'Kelly in 'Where Did Our Love Go?"
Mo'Kelly tells his story of life, love and marriage in the forthcoming compilation of essays of America's leading African-American entertainers, writers and essayists.
Order your copy!
HERE
Saturdays on KFI AM640 6-8pm PDT and iheartradio




Thursday and Friday mornings on KTLK AM1150 9am - Noon and iheartradio
Saturday and Sunday nights from 8pm - 9pm PDT on XM 244.


Like The Mo'Kelly Report on Facebook
Search the World of Mr. Mo'Kelly
Custom Mr. Mo'Kelly Search