FULL STORY HERE.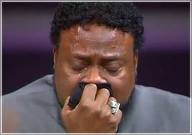 Court records showed the mediation was set for the second week of February.

According to sources familiar with the case, they were all there. FOX 5 I-Team sources say the court-ordered mediation began a week ahead of schedule in a top secret, undisclosed location. And during mediation, sources say all four young men angrily confronted Bishop Long.

According to FOX 5 I-Team sources, the back-to-back days of mediation were nearly three weeks ago. Senior I-Team reporter Dale Russell was told all four young men and their attorney along with the bishop, church and insurance lawyers sat down together in the same room.

A source familiar with the discussions described the atmosphere as "heated" with a lot of "emotion and anger." The source told Russell the young men "cursed the Bishop" as they described in "graphic detail" what they allege he did to them, and the "Bishop never responded."
No word on whether the jheri curl lacefront toupee (a.k.a. Jheri Lacefront) offered a sworn deposition on behalf of the embattled bishop. I mean, in theory…the wig was conceivably a "witness" to all of this. Its testimony could be quite damning.
Mo'Kelly can though confirm that the jheri curl lacefront toupee is presently not pleased about its recent salary cut and has threatened to quit and leave Long altogether.
Jheri Lacefront is not pleased…not even a little bit.  Mo'Kelly is presently working on getting an exclusive interview with Mr. Lacefront.