Posts Tagged 'Holly Robinson Peete'
The African-American entertainment community has been not-so-quietly bubbling about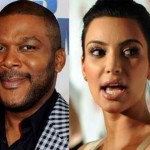 director Tyler Perry's decision to cast reality TV star Kim Kardashian in the upcoming movie, The Marriage Counselor. The obvious irony of the film title aside; purportedly Tyler fans generally and Black actresses specifically are none-too-pleased how Kardashian has further entrenched herself in African-American culture.
Actress and television personality Holly Robinson Peete, while not personally disparaging the Perry decision, did breathe more life into the criticism with recent public remarks on Access Hollywood.
We can always count on Tyler Perry to give a blacktress a job. So all across the world blacktresses are upset.

"No, it's [an] amazing PR move. It's actually pretty smart and the timing is great. Like her brand, this drama will be good for the film. So, it's actually kind of brilliant in a way… I don't have any problems with it."
At the risk of over-analyzing Peete's remarks, Mo'Kelly is a bit confused after reading them.
Are we to lend more credence to the angst of the multitude of Black actresses (Blacktresses) worldwide or the fact that this singular Blacktress is ok with Perry's casting? To whom should we pay more attention?
Let's take Holly Robinson Peete at her word. Her connections and sphere of influence relative to Black actresses can't be argued. If she says that there is voluminous criticism related to casting Kim Kardashian, Mo'Kelly is comfortable taking her at her word.
There now seems to be a bit of hypocrisy in the criticism of Perry by both Black actresses and his general fan base. If you are a fan of Perry, your fandom is inextricably linked to the idea that Perry makes films the way he wants to make them; without deference to any supposed higher calling or ethnic loyalty. You can't be a fan of Perry and simultaneously be on the front lines battling Black film stereotypes. It's an either/or proposition. If you are a Perry fan, then you willingly carry all of his associated baggage. Conversely, if you are adamant in advocating quality Black film or casting quality Black actresses, then that heavy baggage is yours to carry as well. It is an irreconcilable contradiction to suggest one can be both. They are simply mutually exclusive in nature.
The fact of the matter is that Perry has not changed. If he has been anything, he has been wholly consistent. Tyler Perry is still making those decisions which financially best benefit his brand, his business and ultimately his bottom line. He never pre-promised all of his roles to Black women any more than he pre-promised a limit on how many times he would don a dress as Madea.
If you as a "fan" were comfortable with Perry's artistic freedom up until now, then don't get brand new over Kim Kardashian. The fans (and Black actresses) who were quite vocal in their support of Perry don't get to move the goal posts now because Kim Kardashian "offends" them. You "fans" were just fine giggling and ghetto cosigning with Al Sharpton
when he characterized Perry detractors as "Proper Negroes"…as if being being proper in any way is ever worthy of ridicule.
Film director Malcolm Lee has said that Perry "isn't interested in art," questioning the commitment of Perry to mastering his craft. Spike Lee has long beat the drum that Perry has done African-Americans a cinematic disservice. Tyler Perry fans weren't having any of it. Tyler Perry fans called the family Lee "haters," jealous and the like.
But now the core fans are up in arms, suggesting that Perry is now being disloyal to Black actresses? The "Proper Negroes" have long been clear on how Perry perceives himself, his work and eventual legacy. The "Proper Negroes" were in no way disturbed about Kim Kardashian taking the place of a Kimberly Elise, a Kerry Washington, a Gabrielle Union, a Regina King, or some other lesser-known, higher-qualified Black actress. To the "Proper Negroes," Tyler was just being Tyler. The Proper Negroes are now laughing loudly at the angry Tyler Perry fans.
Not laughing with them but at them.
Perry fans are doing their best "Proper Negroes" impression.  But nobody is suggesting that either their complaints are unfounded or rooted in jealousy and haterism.  Therein lies the hypocrisy.
The common argument in support of Perry has been long connected to the idea of how
many Black people he puts to work, on and off the screen. The common rebuttal is that the imagery on the screen will long outlast any paycheck cashed connected to a movie's creation.
Soul Plane temporarily put Black actresses to work too. Does anyone remember who or how many? No, but we all surely remember how far it still has set all African-Americans back in a cinematic sense.
Strip clubs put struggling Black "actresses" to work daily. It's never been just about putting Black actresses to work, it's about responsibility in how paychecks are generated. The "Proper Negroes" already understood this to be true. Tyler Perry fans instead want to pick and choose when cinematic responsibility is important. The selective outrage is quite hilarious.
If Black actresses and Tyler Perry fans in general wish for the multimedia mogul to consider the implied messages casting Kim Kardashian sends to Black people and beyond; congratulations…you have just joined the "Proper Negroes" club…whether intended or not.
Tyler Perry hasn't betrayed or fooled any of his fans. You've fooled yourselves. Perry in a cinematic sense showed you who he was long ago. It's your fault if you didn't believe him.
The Mo'Kelly Report is a syndicated politics and entertainment journal.  Visit http://mrmokelly.com for the latest from Mr. Mo'Kelly.  Contact him at mrmokelly@gmail.com.
Follow The Mo'Kelly Report
To reader and friend Walt Bennett…this is just for you.  Mo'Kelly rests his case.
Peete was interviewed by People magazine regarding John Mayer, and the former Hangin' With Mr. Cooper star says she's still waiting for an apology from him.
Q: Would you have been so flattered by John Mayer stating you're "gorgeous" if you'd read what he said in the rest of the interview?

A: The answer is no. I would never have been as flattered. As a matter of fact, it went from a compliment to being an insult. That anyone would think that I would be so giddy about this young man's compliment that I would compromise my integrity as an African American woman is the most disturbing part for me. I foolishly and impulsively commented (to E!) on a sound bite from an interview that was sent to me by a girlfriend and I didn't know the context at all. … Clearly, after I understood how John Mayer's comments were bookended by racial insensitivities and this racially charged, rambling diatribe that denigrated black women, it became a whole other animal.

Q: How do you feel about what Mayer said?

A: I was disgusted and offended. Especially when I started reading his surrounding comments. In the whole body of the article, there wasn't anything that wasn't offensive. … It was beyond inappropriate. It's crucial for African American women to understand that I would never knowingly gush about such a compliment had I had any clue that it was bookended by these racially denigrating comments about black women. I feel disgusted by it. I went from flattered to flat-out pissed.

Q: Do you feel John Mayer is a racist?

A: Is it possible to say something racially charged, bigoted and flat out ignorant and not be a racist person? That's the question. My impression is that it's possible, but I want to make it clear that this guy has some major issues to sort through and a whole lot of apologies to make. I heard some apologies about the N-word, and I've seen him crying, which seemed sincere. But I don't know if he understands how much he hurt black women's feelings.

Q: Has he reached out to you to apologize?

A: He was very remorseful about the fact that I was inadvertently tangled up into this mess. He reached out to me via email. … He did not apologize for his comments. … At this point, it doesn't feel right for me to totally accept his apology. It's time for him to really just drop the frat boy act and take responsibility for everything that he said, no matter how painful it's going to be for him.

[Stay tuned...the new mrmokelly.com website is coming to you in 2010.  Set your browsers now.]
The Mo'Kelly Report is an entertainment journal with a political slant; published weekly at The Huffington Post and www.eurweb.com.  It is meant to inform, infuse and incite meaningful discourse…as well as entertain. The Mo'Kelly Report is syndicated by Blogburst. For more Mo'Kelly, http://www.MrMoKelly.com.  Mo'Kelly can be reached at Mo@MrMoKelly.com and he welcomes all commentary.
Subscribe to The Mo'Kelly Report HERE