Posts Tagged 'Bristol Palin'
Yes, Bristol Palin's "memoir" has been out for a couple of weeks now and it
has taken this long for Mo'Kelly to stop laughing at the idea that any 20-year old, best-known for a crazy mother and out of wedlock child has penned her life's highlights.
But after calming down and breathing into a brown paper bag to cure the subsequent, horrendous bout of hiccups; it became time to look more closely at the situation.
Sometimes the media misses the real story. Although there has been considerable conversation about the night Bristol allegedly lost her virginity thanks in part to a wine-cooler induced stupor, there's been little about the reality that having sex with any person while incapacitated qualifies as date rape.
And then there's the other pack of 8,000lb. pachyderms thundering toward the middle of the room.
Bristol is now profiting through profiling her "life," stories of illegal, underage drinking, a high school diploma at the ripe old age of 19 and "abstinence advocacy" in the wake of an illegitimate son. This is neither a cautionary nor mildly entertaining tale. It is a glorification of social underachievement of the worst order.
Rewarding dysfunction only ensures that others will seek to follow in her stumbling footsteps.
In other news, Sarah Palin has quit her bus tour halfway through, similar to how she quit the Alaska governorship and (given Bristol's comic book), parenting…halfway through.
Winning a nobel prize as a teenager is a worthy starting point for a memoir at age 20. Losing one's virginity via an unwise interlude with Bartles & Jaymes and Boone's Farm is not.
Not Afraid of Life: My Journey So Far; the title is as pretentious as its likely contents are insipid.
If we turn around and check the tote board, Bristol has "bravely" survived her first 20 years to garner a later-than-usual diploma, pushed out a son and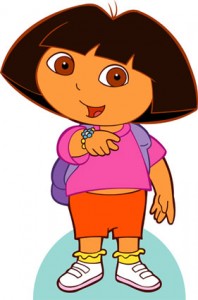 implicated her baby daddy in date rape; parlaying it all into Dancing with the Stars and the aforementioned 36pt. typeface, pop-up book.
Mo'Kelly didn't check to see whether Dora the Explorer wrote the foreword but rumor has it…
Those of us who still live in the real world are still trying desperately to forget Bristol Palin. We try to forget her and here she comes with this color-by-numbers tome in the hopes of never being forgotten.
If you're wondering why this post is so short, it doesn't take 500 words to review the life and times of arguably the most irrelevant and unqualified author of a "memoir" in literary history.
Special thanks to friends Brian McGovney and Ronald Jones who contributed to this post.  For their efforts, Mo'Kelly will be sending them crayon-autographed copies of Bristol's life leaflet.
The Mo'Kelly Report is an entertainment journal with a political slant; published at The Huffington Post and EURWEB.com. For the most recent posts of Mr. Mo'Kelly, visit http://mrmokelly.com.  Mr. Mo'Kelly can be reached at mrmokelly@gmail.com.
Free Subscription to The Mo'Kelly Report HERE
Follow The Mo'Kelly Report on Facebook Network Blogs HERE.
It's moments like these in which Mo'Kelly is utterly dumbfounded about this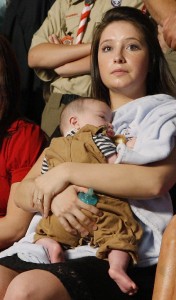 country.
___________
The Bio Channel is giving Bristol Palin a reality series.
The network said Monday that Palin will star in a 10-episode series. She is the daughter of former Alaska Gov. Sarah Palin and a former contestant on "Dancing With the Stars."
The new series will follow her move from Alaska to Los Angeles with her son, Tripp, to work at a small charity.
The single mom will live with actor brothers Kyle and Christopher Massey. The network says Kyle Massey is a fellow "Dancing" contestant and good friend.
Besides reality TV, the 20-year-old Palin has earned hundreds of thousands of dollars as a spokeswoman working to prevent teen pregnancy.
Full story HERE.
Yes, Bristol earned more than a quarter million dollars for her "abstinence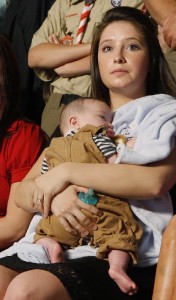 expertise" and get this…the amount is SEVEN times the amount her "foundation" actually spent on teen pregnancy prevention in 2009.
No wonder Sarah Palin doesn't want "the Liberal media" talking about her family.  It would mean discussing such truths as these.  Evidently it's ok to trot your family out as props during an election race and use your daughter after she's knocked up to tout supposed "teen pregnancy prevention."  But it's NOT ok, to tell the truth about what it actually is.
The family Palin does it again and they never disappoint.
Story HERE.
The Mo'Kelly Report is an entertainment journal with a political slant; published at The Huffington Post and EURWEB.com. For more Mo'Kelly, http://mrmokelly.com. Mr. Mo'Kelly can be reached at mrmokelly@gmail.com.
Free Subscription to The Mo'Kelly Report HERE
Follow The Mo'Kelly Report on Facebook Network Blogs HERE.
Mo'Kelly couldn't write this news if his life depended on it.  Anytime college students threaten to boycott and protest a young woman coming to their university to talk about sex (abstinence or not)…you know you people think very lowly of you.
FULL TMZ STORY HERE.
Bristol Palin is officially persona non grata at Washington U in St. Louis — in fact, when students found out she was giving a talk on teen pregnancy, they threatened to protest … so B.P. pulled out.

The talk was supposed to go down next month during the University's "Sexual Responsibility Week" — but a rep for the school tells TMZ, it ain't gonna happen … "because of the growing controversy among undergraduates over the decision to pay for [Bristol's] talk with student-generated funds."
The Mo'Kelly Report is an entertainment journal with a political slant; published at The Huffington Post and www.eurweb.com. It is meant to inform, infuse and incite meaningful discourse…as well as entertain. For more Mo'Kelly, http://mrmokelly.com. Mr. Mo'Kelly can be reached at mrmokelly@gmail.com.
Free Subscription to The Mo'Kelly Report HERE
Follow The Mo'Kelly Report on Facebook Network Blogs HERE.
Mo'Kelly will say this.  If there is any real upside to Oprah's last year on TV (per se) it's that there's no telling what she will or will not do; will or will not say.  Here's a snippet of her upcoming interview with Barbara Walters.  Personally, Mo'Kelly doesn't care whether she's a lesbian, Stedman is gay or how BFF Gayle may or may not have impacted both.  But it's good for Mo'Kelly's SEO…let's just be honest.
Every morning there is a consistent routine to Mo'Kelly's process of news
gathering. First, Mo'Kelly looks for what the world is discussing, then what the U.S. is discussing; then sees what's going on in the African-American community and the interrelation of all of the aforementioned. From there, The Mo'Kelly Report looks to find the stories missed by the media, further expands on the ones featured or simply takes it in an altogether different direction.
Today is one of those "altogether different directions."
Mo'Kelly has never offered any extended commentary about conservative commentator and former Vice Presidential candidate Sarah Palin. In short, she's Rush Limbaugh in a skirt and eight years on the Kathy Griffin bikini starvation diet. She's Ann Coulter, just without the vocabulary, general intelligence or formal education; diet versions of Republican opinion-makers, masquerading as a political figure of import.
You get the point. You can't take Sarah Palin seriously anymore than you would Rush, Ann or any other fringe, extremist conservative ideology and there's no reason you should. Does Sarah Palin wield influence? Absolutely. There are millions of uninformed and uneducated Americans out there…her "audience."  But never confuse influence with import and credibility. Crack cocaine and Justin Bieber both wield considerable "influence," but neither crackheads nor teeny boppers are looked to for social commentary.  The same applies here.
Sarah Palin can't be taken seriously. Any person taking political cues from the likes of Sarah Palin can't and shouldn't be taken seriously either. The popularity of the Palin persona is quite reasonable given the disproportionate influence of reality media and the dysfunctional nature of the relationship between actual news and tabloid journalism.
If Kim Kardashian can create a "television career" on the back of…hmm, let Mo'Kelly re-phrase…on her back in the form of a sex-tape with Ray-J; then yes, Sarah Palin can wrongfully be confused with being a political heavyweight and opinion-leader. Sarah speaks to a large segment of the American population, one disconnected from the knowledge of American or
world history. It's explanative of why she finds consistent fault with First Ladies Barbara Bush and Michelle Obama. One founded a Foundation for Family Literacy (Bush) and the other is a Princeton-educated lawyer and has championed childhood obesity while serving as mother to two exemplary children. Palin has consistently taken issue with everything/everyone she is not or can't be.
You will not ever hear of her taking issue with the uninformed masses or so-called political pundits who pedal thinly-veiled racism and homophobia.  Why offend her base?
Coincidence? Not likely. And speaking of "exemplary" children…Mo'Kelly will now go back to  the idea of teenage adolescents and taking them seriously.
Bristol Palin.
Named after a hotel in Connecticut, bounced between 3 high schools before becoming impregnated by high school dropout Levi Johnston. Her educational exploits culminated with her high school diploma from Wasilla High, not-so-coincidentally her mother's alma mater and widely characterized as a "dropout factory."  In other words, Wasilla High is not known for its commitment to education.
But Mo'Kelly digresses…
For Bristol's exploits, she was rewarded with a career as a paid speaker on the sexual abstinence circuit and a spot on the ratings behemoth, Dancing With the Stars.
In a society in which getting knocked up in high school lands you a spot on TV shows (16 and Pregnant, Teen Mom, Dancing with the Stars), then yes, Bristol Palin is a "star" and her mother of also questionable educational background (5 different colleges in 6 years) is a "credible" political commentator.
These days, both mother and daughter are central figures in the NEWS media, usually surrounding controversial statements with the aromatic stench of racism and/or homophobia attached. The latest "news story" is that Bristol got loose on Facebook (again) and make some untoward comments about comedian Margaret Cho being a lesbian.
I will give my friend credit for creativity, and extra points for getting so many 'facts' wrong in so few sentences. Let me be blunt: my mom did not 'force' me to go on DWTS. She did not ask me either. The show approached me…
Anyone who watched the show could tell I performed better, and I felt better about myself, when they were in the audience. I wanted to make them both proud, but politics had nothing to do with it. Loving my parents had everything to do with it….
You say you 'don't agree with the family's politics at all' but I say, if you understood that commonsense conservative values supports the right of individuals like you, like all of us, to live our lives with less government interference and more independence, you would embrace us faster than KD Lang at an Indigo Girls concert."
"Common sense"…did the formerly knocked up teenager, formerly engaged to the high-school dropout really undergird a point with the phrase "common sense?"
We as a society rewarded the teen mother with a TV show/career and at the same time expect her high school education and the parental stewardship of
Sarah Palin to guide her to a place of sexual tolerance and "common sense?"
Really?
Bristol Palin is inconsequential, as is her Facebook page and the comments expressed therein. It is indicative of the dysfunctional nature in which our contemporary news outlets operate. High school pregnancy is not, can not and should not ever be a pathway to stardom; neither should home sex tapes (Kardashian) or porn careers (Montana Fishburne).
Nothing which emanates from Bristol Palin's mouth or social networking website should be taken to task and at best should be taken with a grain of salt. She is her mother's child. Neither has earned the right to be taken seriously.
The moment Sarah Palin manages to conquer the issue of childhood pregnancy in a familial sense, is maybe…maybe the moment she can begin offering opinions about childhood obesity nationally. The moment someone in Sarah Palin's family gains a legitimate education is the moment she should stop thanking Barbara Bush for her Foundation for Family Literacy and the work it does.  The moment Bristol Palin makes a meaningful contribution to society unrelated to unprotected sex, is the moment she should publicly comment about anyone's sexual behavior; heterosexual or otherwise.
There has to come a point in which jokers, court jesters and clowns are characterized accordingly. It's unfortunate that Mo'Kelly ever had to devote any time to anything Palin-related, but enough is enough. Let's stop being "offended" at the semi-educated, homophobic, limited world-exposure people for acting true to form.
Sarah Palin is who she is, not who some present her to be. You can glue any number of chicken feathers on a chinchilla, but it still has no business in any 2-piece and biscuit meal from KFC.
She is who she is.
And Bristol is her mother's child.
Not Sarah Palin…but BRISTOL Palin.  Her mother, albeit an intellectual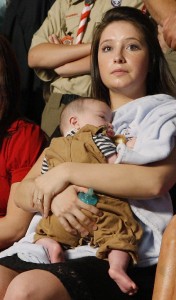 midget, is at least a legitimate public figure.  Bristol on the other hand, her only contribution to this world is getting knocked up as an underage high school student.
So she's rewarded with a spot on Dancing with the Stars?  When exactly did she become a star?  Somebody pinpoint the moment for Mo'Kelly.
Was it before or after her Lemaze classes?  Was it before or after her water broke?  Was it before or after her first engagement or second engagement to Levi what's-his-name?
Just when you think we can't reach any lower…we do.  Just when you think we as a society can't move any further in the wrong direction in our quest to uplift undeserving and untalented young people…we shock the world.
Not Sarah Palin…but BRISTOL.
Story HERE.
The Mo'Kelly Report is an entertainment journal with a political slant; published at The Huffington Post and www.eurweb.com. It is meant to inform, infuse and incite meaningful discourse…as well as entertain. For more Mo'Kelly, http://mrmokelly.com. Mr. Mo'Kelly can be reached at mrmokelly@gmail.com.

Sherry Johnston, the mother of Levi Johnston – the 18-year-old who is the father of Bristol Palin's
soon-to-be-born
baby – was charged with six felony counts of misconduct involving a controlled substance, Alaska's
Anchorage Daily News
reported Friday.
Johnston, 42, was arrested Thursday at her home with a search warrant as part of an undercover drug investigation by Alaska State troopers.
Troopers said they charged Johnston with second-degree misconduct involving a controlled substance – typically manufacturing or delivering drugs – as well as fourth-degree misconduct involving controlled substances, or possession, said the newspaper.
Sherry Johnston did not comment to reporters at her home Thursday.
No Comment from Governor
Her arrest took place around noon, after which she was booked at Mat-Su Pretrial Facility, according to a booking officer there. She reportedly was released on a $5,000 unsecured bond just after 2 p.m.
A rep for Alaska Gov. Sarah Palin, mother of Bristol, said Thursday: "This is not a state government matter. Therefore the governor's communications staff will not be providing comment or scheduling interview opportunities."
Troopers released no other information, including the kind or amount of drugs, because details could jeopardize an ongoing investigation, said spokeswoman Megan Peters
In an Associated Press interview in October, Levi Johnston said he was in love with Bristol and they planned to wed. Bristol, also 18, is nine months pregnant and due to give birth Dec. 20, according to her maternal grandfather, Chuck Heath.
See story HERE

The Mo'Kelly Report is an entertainment journal with a political slant; published weekly at www.eurweb.com. It is meant to inform, infuse and incite meaningful discourse…as well as entertain. The Mo'Kelly Report is syndicated by Newstex and Blogburst. For more Mo'Kelly, http://www.MrMoKelly.com.
Morris W. O'Kelly can be reached at Mo@MrMoKelly.com and he welcomes all commentary.
var AdBrite_Title_Color = 'E1771E';
var AdBrite_Text_Color = '9D1961′;
var AdBrite_Background_Color = 'FFFFFF';
var AdBrite_Border_Color = 'CCCCCC';
var AdBrite_URL_Color = '0000FF';
try{var AdBrite_Iframe=window.top!=window.self?2:1;var AdBrite_Referrer=document.referrer=="?document.location:document.referrer;AdBrite_Referrer=encodeURIComponent(AdBrite_Referrer);}catch(e){var AdBrite_Iframe=";var AdBrite_Referrer=";}<