This is what I hate about many parts of this election season.  Fear-mongering and lies.  When you aren't bound my the moral imperative of truth, you are free to say whatever you want.
(Force courts to accept Sharia law?…force police agencies to allow Muslim Brotherhood to select staff?)
But we live in a post-racial nation, right?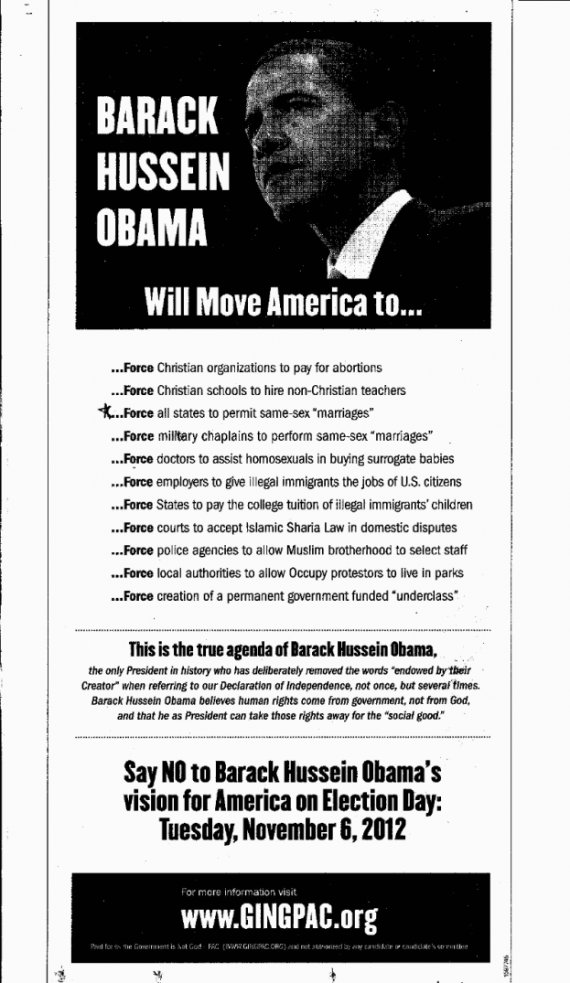 The Mo'Kelly Report is a syndicated politics and entertainment journal. Visit http://mrmokelly.com for the latest from Mr. Mo'Kelly. Tune into The Mo'Kelly Show Saturdays from 6-8pm PDT on KFI AM640 and XM 166 Saturdays and Sundays from 11pm-midnight PDT. Contact Mo'Kelly at mrmokelly@gmail.com.
Follow Mo'Kelly
One Response to "Patently False Anti-Obama Ads Hit Sarasota Tribune (PHOTO)"