Does that qualify as a press release or a job posting?  Either way, someone please tell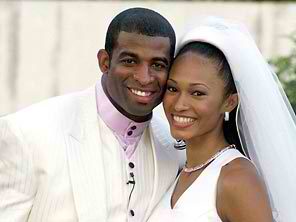 Pilar that Mo'Kelly is more than willing to help her through this very difficult (ahem) time.
To My Friends and Family, Pilar and I have decided to end our marriage and move on to the next phase of our individual lives with mutual respect. We are friends and our top priority has and will continue to be the well-being of our children. We arrived at this decision prayerfully and carefully in order to be able to pursue what is in both of our best personal interests. Neither Pilar or I will be discussing this any further and thank you in advance for respecting the privacy of our family. Truth
Please stop making requests for privacy after making public statements, especially on Facebook.  The best way to retain privacy is to make zero public statements.  Mo'Kelly wouldn't have known Deion was divorcing the unconscionably fine Pilar unless he took to Facebook to let the rest of us know.  He wouldn't have ended up here in The Mo'Kelly Report unless he posted it to Facebook.
Privacy?
Neon please…
Full story HERE.
The Mo'Kelly Report is a syndicated politics and entertainment journal. Visit http://mrmokelly.com for the latest from Mr. Mo'Kelly. Contact him at mrmokelly@gmail.com.
Follow The Mo'Kelly Report
3 Responses to "NFL Hall of Famer Deion Sanders Announces Divorce…on Facebook"