On the eve of his honeymoon, Mo'Kelly caught up with newlywed Lamar Sally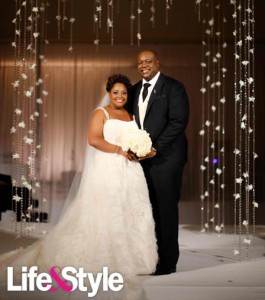 and got his thoughts on life and career with someone as high-profile as Sherri Shepherd; just hours before departing to officially start their lives together as Mr. and Mrs. Lamar Sally.
The Style Network will be airing its coverage of the nuptials September 13th, but today in The Mo'Kelly Report, you will get a glimpse of the man that people have been clamoring to know about and just how he captured Sherri's heart.
In fact, Lamar shares how the two met (through Niecy Nash), their first date and the romantic lengths he went to court his eventual bride.
Maybe we'll even get Lamar to share where the new couple plans to share their honeymoon.
Lamar is quite unpredictable.  Mo'Kelly has NO idea what he might say…and neither does Sherri.  He'll explain…
Another EXCLUSIVE from The Mo'Kelly Report.
Click HERE
The Mo'Kelly Report is an entertainment journal with a political slant; published at The Huffington Post and EURWEB.com. For the most recent posts of Mr. Mo'Kelly, visit http://mrmokelly.com.  Mr. Mo'Kelly can be reached at mrmokelly@gmail.com.
Free Subscription to The Mo'Kelly Report HERE
Follow The Mo'Kelly Report on Facebook  HERE
Twitter – @mrmokelly

One Response to "Lamar Sally Talks Marriage and First Meeting Sherri Shepherd (AUDIO)"