Full Story HERE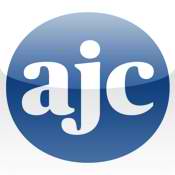 One blog, The Mo' Kelly Report, said recently that  "Well-placed spies for The Mo'Kelly Report and long-time members of New Birth are alleging that Vanessa Long, the First Lady of New Birth has moved out of the house, in fact taking one of the children with her due to the scandal."

Check back for details.
Full Story HERE
For the media:
The Mo'Kelly Report stands behind its story regarding Vanessa Long moving from the family home.

Through numerous conversations and correspondence with present and recently former members/ministry insiders, it became clear that the First Lady was not/is not living in the same home as Bishop Eddie Long.

The Mo'Kelly Report firmly stands behind its story.

This is not including contact with present employees as to the status of the ministry and the internal strife on a business, ecumenical and family level.  These sources will remain protected as to ensure their future employment.

The Mo'Kelly Report firmly stands behind this story and prides itself on high journalistic standards.  There will be no retraction.

New Birth ministries, although contacted (June 8th), opted instead to release a hastily-constructed and ill-informed monologue to the media almost a week later, alleging lacking blogger journalistic integrity and professionalism.  From the photo of the email below, the source was available to New Birth.

New Birth was offered equal space here to rebut the allegations simultaneous to my first published report.  They declined through non-response.

The Mo'Kelly Report firmly stands behind this story.  There will be no retraction.

Let it also be noted that instead of offering a firsthand response from the First Lady herself, readers and the Body of Christ received PR spin from a hired media aide of Bishop Long.  It is more than reasonable to assume that Vanessa Long can speak on her own behalf.  It is also more than reasonable to eschew giving the benefit of the doubt when she does not.  No words from Vanessa or recent picture of the two to verify proximity, simply a statement feigning disgust from the New Birth Director of Communications.

There will be no retraction and The Mo'Kelly Report invites Bishop Eddie Long and Vanessa Long to come into The Mo'Kelly Report and speak openly and candidly on these issues.  Such a discussion is not precluded by the alleged 25-million dollar settlement.

Until that time, there will be no retraction.  If New Birth Ministries finds this stance unacceptable, they are welcome to pursue other avenues to address and remedy this matter.

Respectfully,

Morris W. O'Kelly

The Mo'Kelly Report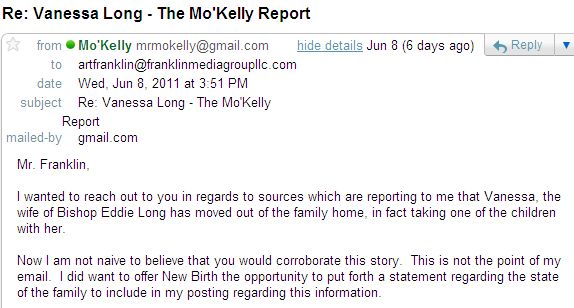 The Mo'Kelly Report is an entertainment journal with a political slant; published at The Huffington Post and EURWEB.com. For the most recent posts of Mr. Mo'Kelly, visit http://mrmokelly.com.  Mr. Mo'Kelly can be reached at mrmokelly@gmail.com.
Free Subscription to The Mo'Kelly Report HERE
Follow The Mo'Kelly Report on Facebook Network Blogs HERE.